Ubiquiti Case Study - Cadmus NanoBridge Point to Point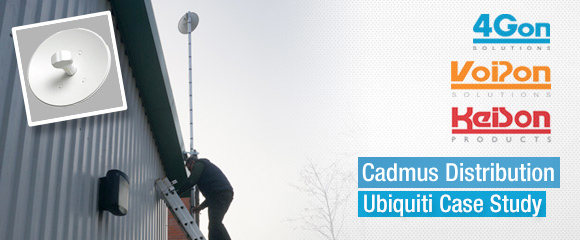 Cadmus Distribution Install Ubiquiti NanoBridge Point to Point Link
A new data link was required to connect the two office sites of Cadmus Distribution, used by employees of VoIPon and 4Gon. With over two decades of experience in the aerial installation industry, Chris Glover was employed to fit the equipment.
"I recommend Ubiquiti products every time. They do what they say on the tin and are very cost effective. If speed is a question of money, how fast do you want to go?"

Chris Glover, Installation Engineer
About
From November 2013, the wireless bridge required to connect both sites would serve employees of all three companies working from the buildings. VoIPon Solutions, a leading worldwide distributor of VoIP equipment, 4Gon Solutions, distributor of wireless equipment and Keison Products, a distributor of laboratory, gas and industrial safety equipment.
The Challenge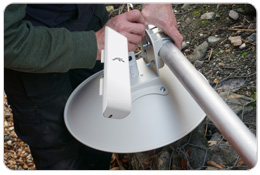 The second site required a high speed, stable and cost effective wireless solution that could support up to 50 concurrent users to connect to the primary building.
The connection would have to cover a distance of just under one mile across a residential area with buildings and winding footpaths.
A wireless point-to-point antenna would have to be pole mounted to the second building to achieve clearance over the buildings in between sites.
The Solution
A wireless solution was put in place in the form of:
A point-to-point wireless link was chosen because it was not possible to lay cables between the sites. The Ubiquiti NanoBridge M5 was chosen as it delivers the speed required over the distance between both sites. It can support up to 300 concurrent users, utilises the 5GHz band a features a 400MHz processor.
The Results
High speed connection
Covers the required distance
Private, wireless data link
Reliable
No cables
Photos
Click the images below to enlarge