An Introduction to 2.4GHz Technology
The most utilised Wireless Networking frequencies are those found in the unlicensed 2.4GHz band. Computer equipment that uses this band ranges from purpose built Point-to-Point Ethernet Bridging Kits to the small, Wi-Fi Dongles found on notebook laptops, however, many other types of products also operate within this frequency band such as Wireless Phones, Microwave Ovens, Video Devices and more which in turn can cause a lot of interference.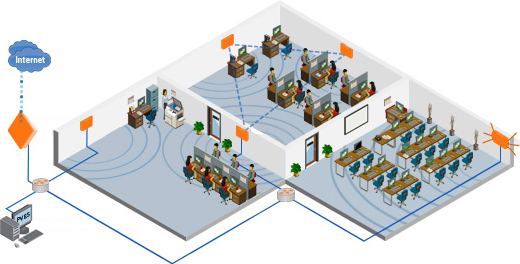 An example of WLAN in an office environment
The IEEE 802.11 standard governs the 2.4GHz band with the main ranges of wireless devices adhering to the following standards:
802.11b using DSSS, < 20Mbps per data stream and up to est. 140m
802.11g using OFDM, up to 54Mbps per data stream and up to est. 140m
802.11n using OFDM, up to 150Mbps per data stream and up to est. 250m
The 2.4GHz frequency band was the first to be brought into the Wireless Networking consumer mass market and therefore has become very popular in the home up to small enterprise level networking. Due to the technology being around for a good while, equipment has become competitively priced and extensively packed with features which is the reason why it has become so widely used.
For network coverage over larger distances, higher end, more expensive Access Points can be used with high gain antennas along with Point-to-Point Ethernet Bridges if distances between buildings are very high. These 2.4GHz Wireless Networks can span areas over many kilometres.
Typical Applications of 2.4GHz Technology
802.11 Wi-Fi connections are used around the home and in offices to eliminate the use of cables when sharing printers, scanners, and high speed internet connections. In the home or small-office-home-office areas, devices such as Wi-Fi Routers and lower end Access Points can be used to create building wide internet and network access with small indoor antennas boosting the signal if needed. The main advantage of a 2.4GHz Wi-Fi WLAN is that they are simple to set up and require only one access point connected directly to the internet through the router. Once a machine is connected to that wireless network, it can access the web and other connected devices from anywhere within the router's range. More expensive Access Points are available that specialise in providing a larger range to cater for bigger buildings or outdoor environments.
Point-to-Point Ethernet Bridges refer to the implementation of Fixed Wireless Data links between just two computers or wireless networks at more distant locations where higher end, more expensive equipment can be used with high gain antennas. These 2.4GHz Wireless Networks can span areas over many kilometres. This is achieved, mostly, by using dedicated microwave signals over paths that have a clear Line-of-Sight and is often utilised in towns and cities to connect office buildings to a network without having to install an expensive cabled connection.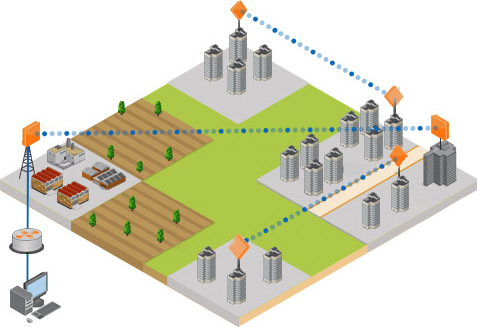 An example of point to point ethernet bridges
Performance
The 802.11 family, which governs the 2.4GHz frequency band, consists of a series of over-the-air modulation techniques that use the same basic protocol. The most popular are those defined by the 802.11b, 802.11g and 802.11n protocols. You can see in the table below the varying performance of the most popular standards:
2.4GHz 802.11 Wireless Networking Standards
802.11 Protocol
Release
Bandwidth (MHz)
Data rate per stream (Mbps)
Allowable MIMO streams
Modulation
Approximate indoor range (m)
Approximate outdoor range (m)
b
Sep-99
20
Up to 11
1
DSSS
38
140
g
Jun-03
20
Up to 54
1
DSSS, OFDM
38
140
n
Oct-09
20
Up to 72.2
4
OFDM
70
250
40
Up to 150
70
250
The Data Transfer Rates that are advertised are usually less when put in practice for several reasons, each data packet includes more data that what you are trying to transfer such as MAC, IP and TCP headers, checksum and preambles etc, also transmitters wait for a short interval between sending or receiving data packets to see if other networks are trying to use the same channel and finally, when each packet is received a small acknowledgement packet is sent to the location that it was sent from.
All of these have a slight effect on maximum throughput speed and therefore the suggested 'real' speeds of the standards could be said to be as follows (please note that throughput speed will vary for each individual wireless network set up so these figure should only be taken as a rough guide):
2.4GHz 802.11 Wireless Networking Standards
802.11 Protocol
Advertised Speed (Mbps)
Real World Throughput Speed (Mbps)
802.11b
11
≈ 4.5
802.11g (11b compatibility on)
54
≈ 14.5
802.11g
54
≈ 23
802.11g MIMO
108
≈ 45
802.11n
300
≈ 74
802.11n
600
≈ 144
Interference
2.4GHz Wireless Networks can suffer from bad interference causing signal loss and disruption to the network speed and reliability. This is due to many wireless consumer products using the 2.4GHz frequency band which has resulted in the relative air space to become "clogged up".
Video senders, devices for transmitting domestic video signals, are an especially big problem for 2.4GHz Wi-Fi networks. Unlike Wi-Fi they operate continuously, and are typically only 10 MHz in bandwidth. This causes a very intense signal as viewed on a spectrum analyser, and completely obliterates over half a channel. The result of this, typically in a WISP-type (Wireless Internet Service Provider) environment, is that clients can hear the Wi-Fi without any issues, but the receiver on the WISP's access point is completely obliterated by the video sender, so is extremely deaf. A combination of different factors such as, generally low power output of the Wi-Fi equipment in comparison, the fact that typically the video sender is far closer to the receiver than the Wi-Fi transmitter and the FM capture effect means that problems may be caused with respect to the Wi-Fi network over a wide area, but the Wi-Fi unit causes few problems to the video sender. Other products such as Phone networks including VoIP or DECT phones, Bluetooth signals, Car Alarms and Microwave Ovens (just to name a few) all operate on 2.4GHz frequencies and restrict channel availability which can cause problems. Also, 802.11n Wi-Fi networks are proving to be a slight source of interference for other wireless data networks operating at 2.4 GHz due to their increased MIMO (Multiple-In-Multiple-Out) capabilities and other factors.
With the emergence of the new, cost effect and high performing 5GHz products, the market dominance of the 2.4GHz frequency range is starting to look threatened and may well start to decline as users look to take advantage of the benefits of 5GHz Wireless Networking.
---
For more information on 5GHz Wireless Networking, please refer to our Introduction to 5GHz Technology article.