An Introduction to 3G Technology
Much the same as how the IEEE have set 802.11 standards for Wireless Networking, the ITU (International Telecommunications Union) has set standards of its own for mobile telecommunication and data transfer services called 3G (3rd Generation Mobile Telecommunications). The application of the 3G services can be but are not limited to the wide-area wireless voice telephone markets, Internet access, video calls and TV, all of which are to be found within a mobile (on-the-go) environment but it is perhaps most well known due to the massive increase in usage within 3G smartphone communications, tying in capabilities of PDAs with those of a normal mobile phone.
"Mobile Broadband" has also become a widely used term due to the increase in data transfer rates using the 3G services making the method for using 3G to gain internet access via a 3G Router very popular. These routers can be used in very remote areas, off the conventional broadband grid, to gain internet access whilst on the move through a laptop device, opening up opportunities for people to stay globally connected at all times.
The 3G IMT-2000 standards were set to outline the characteristics of a 3G service which required a peak data transfer rate of at least 200kbps but recent 3G technology advances have pushed these figures well into the several Mbps rates found on modern 3G mobile modems and smartphones. The 3G radio interfaces and systems listed below are all based on the technology of related spread spectrum radio transmission.
The following standards are the most widely known to be "3G" branded:
The UMTS System, introduced in 2001, was standardised by the 3GPP group and it has now become that most Mobile Phones are typically UMTS and old GSM hybrids. A few varying radio interfaces are available whilst all using the same infrastructure:

W-CDMA was the first and is the most widely used radio interface that operates on the frequency bands of 2100MHz and also 900Mhz and 1850MHz.
HSPA+, the most recent interface, utilises MIMO technology that can offer peak data rates of up to 28Mbps in downlink and 22Mbps in uplink. With improvements to the existing infrastructure, speeds of 56Mbps in downlink should be possible.

The CDMA2000 system, introduced in 2002, was standardised by the 3GPP2 group and in mostly used in North America. The most recent interface, EVDO Rev B can supply peak downlink rates of up to 14.7Mbps per downstream.
Whilst meeting the 3G standards set by ITU, GSM EDGE (which is commonly branded to as 2.9G), DECT cordless phones and Mobile WiMAX are not typically referred to as 3G are they are based on differing technology.
For a more detailed breakdown of each of the popular systems, please refer to the table below:
Common name of 3G IMT-2000 standard
Bandwidth
Pre-4G upgrade
Duplex Method
Channel
Description
Geographical Areas of Usage
EDGE (UWC-136)
EDGE Evolution
Likely Discontinued
FDD
TDMA
Evolutionary upgrade to GSM/GPRS
Worldwide, except Japan & South Korea
CDMA2000
EV-DO
UMB
CDMA
Evolutionary upgrade to CDMA One (IS-95)
Americas, Asia & some others
UMTS
W-CDMA
HSPA
LTE
Family of revolutionary upgrades to earlier GSM family
Worldwide
TD-CDMA
TDD
Europe
TD-SCDMA
China
DECT
none
FDMA/TDMA
Short-range, standard for cordless phones
Europe & USA
 
WiMAX (IEEE 802.16)
OFDMA
 
Worldwide
Typical 3G Applications
Due to the increase in data transfer rates over old 2G systems, 3G can be used to provide a wide range of services and is capable of offering:
3G High speed internet access - E-mail or general web browsing is available.
3G Interactive user services - Services such as online banking or shopping can be used.
3G Video games on demand - a provider sends game data directly to the subscriber where they can play in real time.
3G Mobile TV - a provider redirects a TV channel directly to the subscriber where it can be watched.
3G Video on demand - a provider sends a movie to the subscriber.
3G Video conferencing - subscribers can see as well as talk to each other.
3G Tele-medicine - a medical provider monitors or provides advice to the potentially isolated subscriber.
3G Location-based services - a provider sends localized weather or traffic conditions to the computer or phone, or allows the subscriber to find nearby businesses or friends.
The main aim for the 3G network development is to allow the user to leave their normal wireless networking environment at home or at work (typically WLAN) and still remain connected to the 3G network and be able to utilise all of the same services whilst on the move. To connect to a 3G service, a user has to subscribe to a provider where typically you pay regularly for a set amount of data transfer allowance, however, subscription packages vary.
3G services are starting to become utilised in new areas where they could potentially lead viable alternatives to existing networks such as office based wired network access provisions such as PBX or Intranet systems. 3G equipment can also use satellite radios that can be combined with the conventional, terrestrial radios to provide much wider, global signal access.
Performance
Data Rates
There is no clear set rate that a user can expect to achieve for a 3G connection from a provider but the 3G standard was set to offer at least 144kbps for fully mobile applications (such as inside a moving car), 384kbps for applications with limited mobility (running whilst connected) and 2Mbps for very low mobility applications (using a computer whilst stationary). Even though these rates were specified, speeds would heavily rely on the 3G network provider's radio planning and deployment strategies and would decrease as you lose signal strength; therefore it is advised that you check the respective provider's coverage maps before purchasing equipment.
Range
Range is tied in with the network coverage issues mentioned above; listed below are link to the UK coverage maps for all the main 3G providers.
Technical Discussion
3G Spectrum
The 3G spectrum is split up into different frequency bands for the different 3G systems with the main one in question being the UMTS band located between the following frequency ranges of 1900 - 1980, 2010 - 2025 and 2110 - 2170MHz with the FDD uplink channel found between 1900 - 1980MHz and the FDD downlink between 2110 - 2170MHz.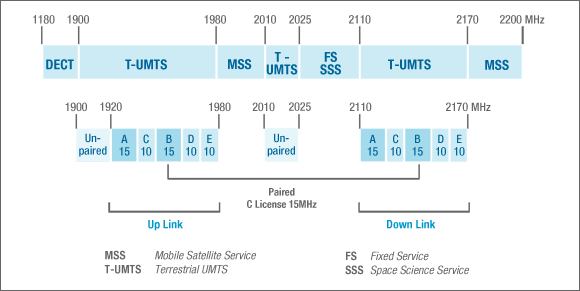 The uplink and downlink is split into two different frequency bands because a technology called FDD (Frequency Division Duplexing) is used where the downloading and uploading of data is done through two, paired bands of identical bandwidth.
In the UK the terrestrial UMTS band was licensed off at auction being sub-divided into 5 sub-bands of two 15MHz and three 10MHz options and were subsequently purchased by the operators 3, Vodaphone, O2, T-Mobile and Orange who now have control over terrestrial 3G service provision.
| | | |
| --- | --- | --- |
| Licence Name | Frequencies | License Owner |
| Licence A | 2x15 MHz paired + 5 MHz unpaired spectrum | 3 |
| Licence B | 2x15 MHz paired spectrum | Vodafone |
| Licence C | 2x10 MHz paired + 5 MHz unpaired spectrum | BT (O2) |
| Licence D | 2x10 MHz paired + 5 MHz unpaired spectrum | T-Mobile |
| Licence E | 2x10 MHz paired + 5 MHz unpaired spectrum | Orange |
Always-Online Devices
An advantage of 3G technology is that it uses packet-based IP connectivity. This means that the device using the 3G service for internet access will always be online and ready without actually paying for the connection until data packets start sending or are received. Some 3G devices have Wi-Fi connectivity built alongside so that they will automatically connect when available saving you from using up your data transfer usage allowance.
HSDPA
HSDPA is another interface specialising in getting the maximum downlink rate of transfer in the UMTS system with most recent devices offering data speeds of up to 14Mbps. A critical point here is not the maximum peak rate however, but the fact that throughput capacity is significantly increased allowing multiple users to experience higher downlink rates on a single carrier.
HSUPA
HSUPA, sometimes referred to as E-DCH, is another interface that specialises in maximising the uplink rate of transfer offers data speeds of up to 5.8Mbps. HSUPA achieves its high performance through efficient uplink scheduling in the base station and faster retransmission control.
3G Antenna Discussion
Due to 3G terrestrial services being sent via transmitter towers to devices over the air using RF signals, using an antenna is a great way to improve the received signal strength. As with all wireless networking, signal strength for 3G transmissions drops and the distance between transmitter and receiver increases. Therefore in the most likely situations, the more rural the area that you are in the more chance there is that you will be further from a signal transmitter and will have a harder time picking up a strong signal. Secondly, anything that is located between the signal paths will have an effect whether it is a large hill, a building, a wall or a person. These cause signal deterioration and it is advised that you have as clearer path as possible to achieve maximum signal strength and even utilising outdoor antennas if possible. For more information on antennas, please refer to our "Antenna Information & Mounting Guide".
4G Developments
The successor of 3G is the IMT-Advanced, more widely known as 4G, system which specifies that data rates should be at least 1Gbps whilst stationary and 100Mbps for mobile operation. This is going to be achieved on an all-IP network infrastructure using technologies such as MIMO that is found in other modern wireless networking equipment. The 3GPP and IEEE parties are now working on interfaces called LTE and WiMAX respectively.