Video Reviews
Expand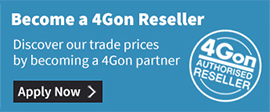 Ubiquiti UniFi Video
Ubiquiti UniFi Video - Video Surveillance
UniFi Video is a highly scalable, feature-rich, end-to-end hardware and software platform. Expand your surveillance network with hundreds of indoor/outdoor video cameras across multiple locations.
The Ubiquiti UniFi Video Surveillance systems are dyamic for varied applications, such as fixed smaller spaces and larger areas such as warehouses where camera dexterity is paramount.

Quantity Price Discounts Available! Click on the arrow to reveal.
Need 10+ products or can't find what you need? Get a
quick quote
or call us now on 0330 088 0295!
Item Code: UVC-G3-AF-5

1080p Full HD, 30 FPS
Wall, Ceiling, or Pole Mount
Infrared LEDs with an automatic IR cut filter

£524.99

Buy Now Availability: In stock
Item Code: UVC-G3-DOME-5

1080p Full HD, 30 FPS
Wall or Ceiling Mount
Infrared LEDs and an automatic IR cut filter

£524.99

Buy Now Availability: In stock
Item Code: UVC-G3-PRO

1080p Full HD, 30 FPS
Permanent or Temporary Mount
Infrared LEDs and mechanical IR cut filter

£236.50

Buy Now Availability: In stock
Item Code: UVC-G3-MICRO

1080p HD, 30 FPS
Magnetic base, wall mounts, and desk mount
Infrared LEDs and mechanical IR cut filter

£185.00

Buy Now Availability: In stock

Item Code: UVC-G3-LED

£59.99

Buy Now Availability: In stock

Item Code: UVC-G3-FLEX

1080p Full HD, 25 FPS
Desktop, Wall or Pole Mount infrared
LEDs and automatic IR cut filter

| | |
| --- | --- |
| Displaying 1 to 9 (of 9 products) | Result Pages: 1 |