Video Reviews
Expand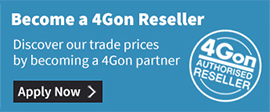 Ubiquiti PowerBeam
Incorporating a dish reflector design with advanced technology, the Ubiquiti PowerBeam range is the latest generation of Ubiquiti Networks airMAX CPE for customer locations.
The Ubiquiti airMAX PowerBeam range offers very cost effective solutions for 100mbps up to a staggering 450mbps, more than enough to satisfy the needs of a busy modern network.
The range features Ubiquiti's InnerFeed technology integrates the radio into the feedhorn of an antenna, so there is no need for a cable. This improves performance because it eliminates cable losses. In addition, this range includes Plug and Play Installation and requires no tools for assembly.
Quantity Price Discounts Available! Click on the arrow to reveal.
Need 10+ products or can't find what you need? Get a
quick quote
or call us now on 0330 088 0295!
Item Code: PBE-2AC-400

Max. Power Consumption: 7.5W
PoE Enabled
Gain: 18 dBi

£94.80

Buy Now Availability: In stock
Item Code: PBE-5AC-500

Enquire Availability: Limited Availability. Call for Details.
Item Code: PBE-5AC-620

Frequency: 5 GHz
Throughput: 450+ Mbps
Range: 30+ km

£157.65

Buy Now Availability: In stock
Item Code: PBE-5AC-Gen2

Frequency 5 GHz
Range 25+ km
Highly Efficient Antenna Beam Performance

£96.00

Buy Now Availability: In stock
Item Code: PBE-5AC-ISO-Gen2

Frequency 5GHz
Throughput 450+ Mbps
Range 25+ km
Item Code: PBE-5AC-Gen2-5

Frequency 5 GHz
Range 25+ km
Pack of 5

£432.75

Buy Now Availability: In stock
Item Code: PBE-M2-400

Frequency - 2 GHz
Throughput - 150+ Mbps
Range - 20+ km

£79.80

Buy Now Availability: In stock
Item Code: PBE-M5-300-ISO

Plug and Play Installation
Throughput - 150+ Mbps
Dish Reflector 300mm

£89.55

Buy Now Availability: In stock
Item Code: PBE-M5-400-ISO

Frequency - 5 GHz
Throughput - 150+ Mbps
Range - 25+ km
| | |
| --- | --- |
| Displaying 1 to 11 (of 11 products) | Result Pages: 1 |