Video Reviews
Expand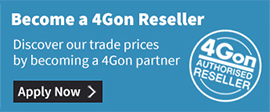 4G Routers - 4G LTE Routers
4G Routers
4Gon stock and sell a range of feature rich 4G routers from a variety of different manufacturers including Peplink, Cradlepoint, Sierra Wireless and Conel.
What is a 4G Router?

A 4G Router is a wireless router that enables connection by connecting to the 4G/LTE network, 4G Routers can enable you to capitalise on wireless speeds of up to 100Mbps. 4G Routers enables customers to take advantage of the next generation of mobile communication standards.