Video Reviews
Expand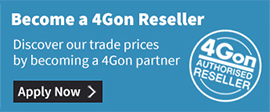 Peplink Balance LTE Routers
The Peplink Balance range lets you take control of your WAN and achieve unbreakable internet connectivity. They intelligently distributes network traffic over multiple WAN links, including DSL, cable, 4G LTE, and 3G. Should a connection fail, the Peplink Balance automatically switches to a healthy link in less than a second, seamlessly maintaining internet connectivity and corporate VPN functionality. Peplink routers also have benefits of being capable of taking multiple internet links and turning them into a single connection, as well as keeping your network up and running by continually checking the health of all connected links and routing traffic around inactive or intermittent connections.

Quantity Price Discounts Available! Click on the arrow to reveal.

Need 10+ products or can't find what you need? Get a

quick quote

or call us now on 0330 088 0295!